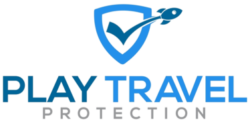 Play Travel Canada Travel Protection
This Travel Protection Program is for Canadian Residents traveling to world-wide locations (unless subject to published travel restrictions). The Play Travel Canada Travel Protection Program is underwritten by Old Republic Insurance Company of Canada in Hamilton, Ontario.
This program no longer available for purchase effective 10.1.21. For coverage to be valid, purchase must have been made no later than 11:59pm 9.30.21.
Sample Policy based on provincial residence of traveler.
*Not available to residents of Quebec
All references to currency are in United States dollars.
*Schedule of Benefits
BENEFITS
LIMITS
Trip Cancellation
100% of Trip Cost up to $100,000
Trip Interruption
100% of Trip Cost up to $100,000
Trip Delay
$600 ($200 per day maximum, Minimum 6 hours delay)
Baggage/Personal Effects
$1,000 ($300 per article limit,

$500 combined maximum for valuables)

Baggage Delay (Outward Journey Only)
$1,000 ($200 per day maximum, Minimum 12 hours delay)
Accidental Death & Dismemberment
$25,000
Emergency Accident and Sickness

Medical Expense

 

Emergency Dental

$25,000

$500

Emergency Medical

Evacuation/Repatriation of Remains

$250,000

Sports Equipment Rental
$1,000
*Up to the lesser of the Trip Cost paid or the Trip Cancellation Benefit amount.
* This Program is for Canada Residents traveling to US-based and international locations (not subject to published travel restrictions).
* Maximum Trip Cost is $100,000.
* Maximum Length of Trip is ninety (90) days.
* The Pre-existing Condition Exclusion applies to Trip Cancellation, Trip Interruption, Trip Delay, Accident and Sickness Medical Expense: A Loss caused by or resulting from a Pre-existing Condition(s) shall be Excluded, unless: (a) the Policy is purchased within fourteen (14) days of Your initial Trip deposit; (b) the booking for the Covered Trip must be the first and only booking for this travel period and destination; and (c) You are not disabled from travel at the time You pay the premium.
This Schedule is only a partial summary of your coverage benefits, and may vary by province. Your coverage benefits, including any exclusions, conditions and limitations, are described in full in the policy document, a copy of which will be emailed or mailed to you upon purchase (click "View Sample Policy" below to view a sample). If you do not receive a copy, or want a replacement, please call 1-888-584-6171 or email your request to traveladmin@orican.com.
FOR FILING A CLAIM
Contact Old Republic Insurance Company of Canada at:
Customer Service Toll Phone: Toll Free: 1-888-584-6171 or Direct Dial: 905-667-0299
While on your trip:  24/7 Emergency Travel Assistance Call:
24/7 Emergency Assistance:

Within U.S./Canada: (800) 334-7787
Collect: (603) 952-2684
Mailing Address:
Old Republic Insurance Company of Canada
Travel Claims Department
P.O. Box 557, Hamilton, Ontario L8N 3K9
Fax: 1-866-551-1704
Email: canadianclaims@orican.com
Claim Forms
You can download a claim form: